Hush Say the Stars

Written by Margaret Spurling. Published by Little Book Press, 2018 in hardback and paperback.
Available online from Little Book Press and all good book stores.
Order Hardback or Paperback Copy Online
If you would like a signed, personalised copy, simply email me here.


All is quiet, all is still as the first stars appear in the evening sky. As night closes in, the farm settles down with all the animals, big and small, knowing that now is the time to snuggle into their warm cosy beds.
Hush say the Stars, it's time to be still. The gentle cows gather on the side of the hill. Time for sleep.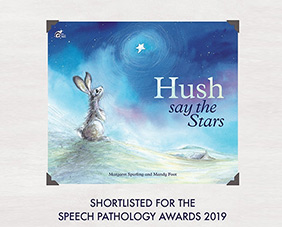 Shortlisted
Absolutely thrilled to learn
Hush
has been shortlisted for the
Speech Pathology Awards 2019.

It is an incredible honour to be included on this list.
Reviews
A delightfully, gentle story which when read in a quiet, soothing voice should have the desired effect of lulling little ones to sleep.
The repetition of text and the soft, watercolour illustrations are a perfect blend to induce peace and stillness in both reader and child.
This book is sure to be a bedtime favourite.
Sue Wright – May Gibbs Children's Literature Trust