Welcome to the official website of South Australian illustrator, Mandy Foot.
My other hats include author, artist and designer.


Mandy holds a Bachelor of Design specialising in Illustration from the University of South Australia. In 2009 she discovered a passion for illustration in children's books. After a wonderful collaboration with major publisher, Hachette Australia, her first picture book was an Australian version of 'The Wheels on the Bus', released later that same year. A stickler for meeting deadlines, consequently she frequently looks like this pelican....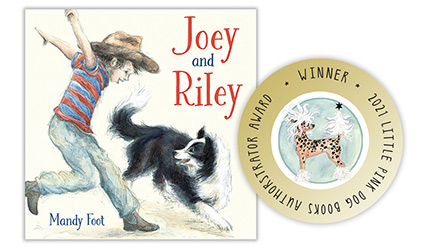 Absolutely thrilled to share the news Joey and Riley has WON the 2021 Little Pink Dog Books Authorstrator Award!!
Awarded to Best Children's Picture Book for dynamic interplay between words and illustration and open to Author/Illustrators throughout Australia and New Zealand. This is a book that is very close to my heart and as my first book I have both written and illustrated, I couldn't be more excited!
A big thank you to Little Pink Dog Books for establishing this award and loving Joey and Riley as much as I do (as do so many of you out there), to my publisher Hachette Australia for believing in me and to everyone who has and continues to support me - THANK YOU!!



For school visits and speaking engagements
Please contact Mandy's Booking Agent, Becky Lucas.
Phone | 0424 584 697 Email |
[email protected]
Ambassador for Raising Literacy Australia

Role Model for Books in Homes Australia